Leg 4
Nuuk to Alert 15th December 2002
Well it's Sunday 15th December and I've goofed up somewhere.
Last time I checked, Alert was only about 750nm from Nuuk. However, when I entered the ICAO code into the G.P.S. I got 1,110nm back. Time for some decision making. I've never flown this far in a baron. I'm not even sure it will cover this range on full tanks. Back to the G.P.S. and look for somewhere roughly half way that I can refuel if needs be. Upernavik (BGUK) is ideally situated and I enter the details into the radio stack.
Ok....it's snowing, it's about -7degrees Centigrade (you'll notice a couple of panel modifications including an IOAT in Centigrade) and it's dark. So why take off now in the dark? Well, I figured this leg could take anything up to 7 hours and as it was roughly 11.30a.m. G.M.T. here in England, I thought I'd better make some headway before the sun rose and sank again! Little did I know...
Setting the autopilot to climb to a lean fuel saving 15,000 feet, I left Nuuk and headed North towards Alert in Canada, which, for anyone that doesn't know, is the most Northern airport modelled in FS2002. I scanned my temperature gauges and noted that it was -30 degrees C up here! No time to be flicking your cigarette out of the window!!
About half an hour passed and I was handed to Montreal A.T.C. There was the usual plethora of Traffic alerts going on, and inevitably, I got one. Now I have to confess at this point that I've rarely paid much attention to these. I usually have a quick look in the direction A.T.C. give me and report having seen them whether I have or not just to get A.T.C. off my back. Very reprehensible I know, but I can assure you it won't happen again. As I went into Virtual cocpit mode for a look (easier in that I find), a Mooney Bravo crossed right in front of my nose! I mean RIGHT IN FRONT!II I managed to squeeze a screenshot off as he subsequently disappeared into the distance, muttering unmentionable utterances about watching where he was bloody going and so on. In all my flight time in FS2002 I've never had one that close. He must have crossed my nose within 30 metres. Scared the bejesus out of me!
Anyway, several rapidly puffed cigarettes later, it occurred to me that there was still no sign of the Sun. Nope - not a glimmer. I settled back and waited. The clock ticked by...nothing. Not one candle power! Then the penny dropped. I was heading so far North that, in winter, it doesn't rise at all around here. You've probably heard of the "midnight sun" where the Sun never sets - well this is it's opposite. I felt pretty disappointed at this realisation. No way I was going to get any decent screen shots and nothing I could do about it short of waiting around until summer!
I passed Upernavik on almost exactly half tanks and decided to risk leaning the mixture even further and trying to make Alert in one flight. The r.p.m. disappeared beneath the green on the gauges, but the engines kept running and I hoped it would be sufficient.
The clock ticked on...
I took a couple of shots. Sorry about the "Santa and his reindeer" one - I was bored! :) About 30 minutes from Alert I began my descent with roughly an eighth of my fuel still remaining - more than enough to make it in.
Thanks to the absence of A.T.C. at Alert apart from a Multicom frequency, I landed uninterrupted. I suppose I should note that despite being this far North, I saw no evidence of FS2002's inclination to play with the textures and slide them around. However, this isn't conclusive as it was pitch black!
Sadly, not only isn't there a bar here, there's absolutely no-one here! I had the N.D.B. for company and that was it! Oh well...time for a snooze in the baron until I can head back down the East Canadian coast.
Screenshots
1) -5 degrees C and light sow at Nuuk.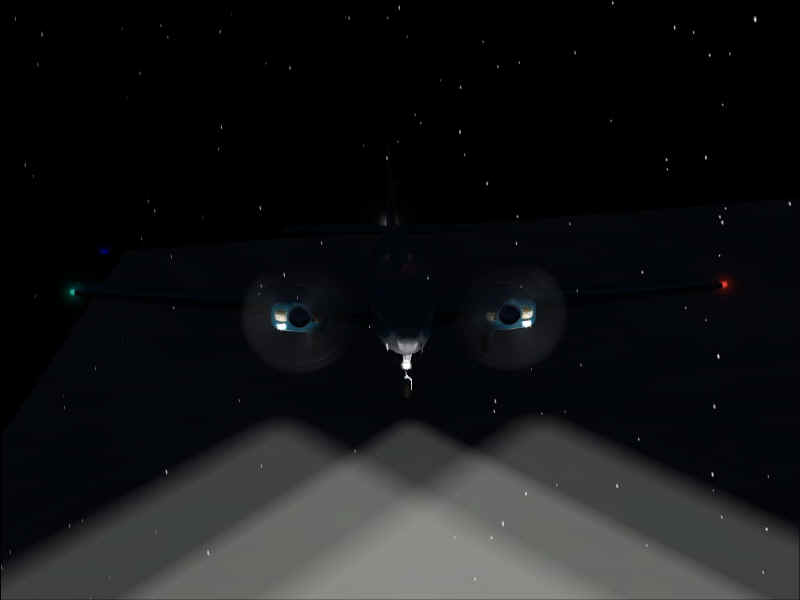 2) Taxiing for fuel.
3) Leaving Nuuk.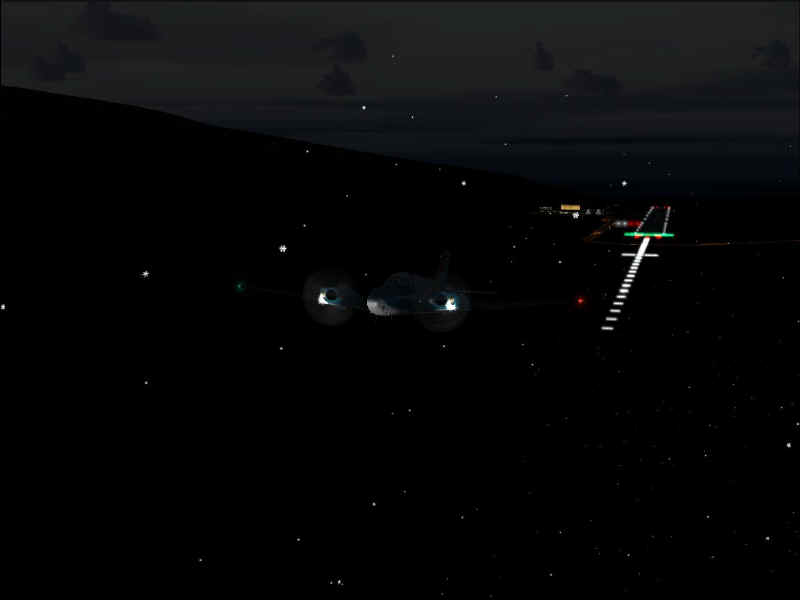 4) Cruise altitude - 15,000 feet over the clouds and -30 degrees C!!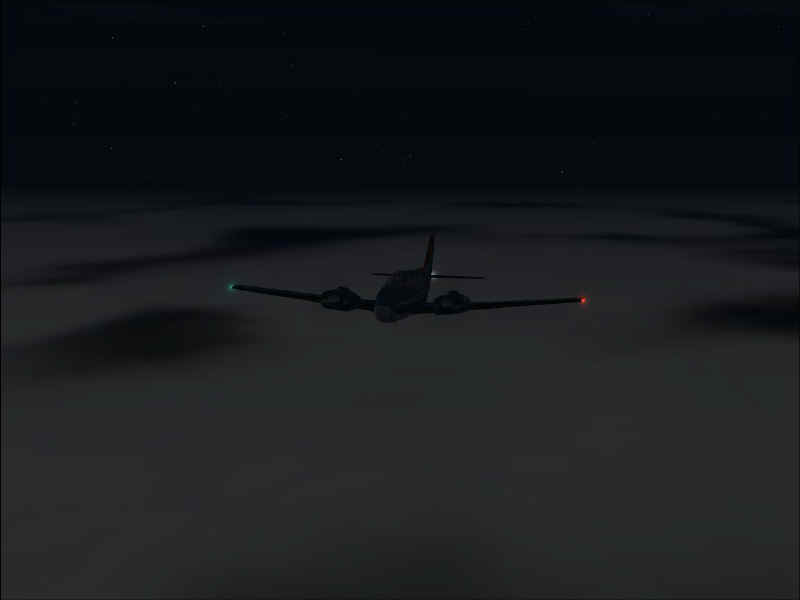 5) Report him in sight?!?!?! I'll report him alright....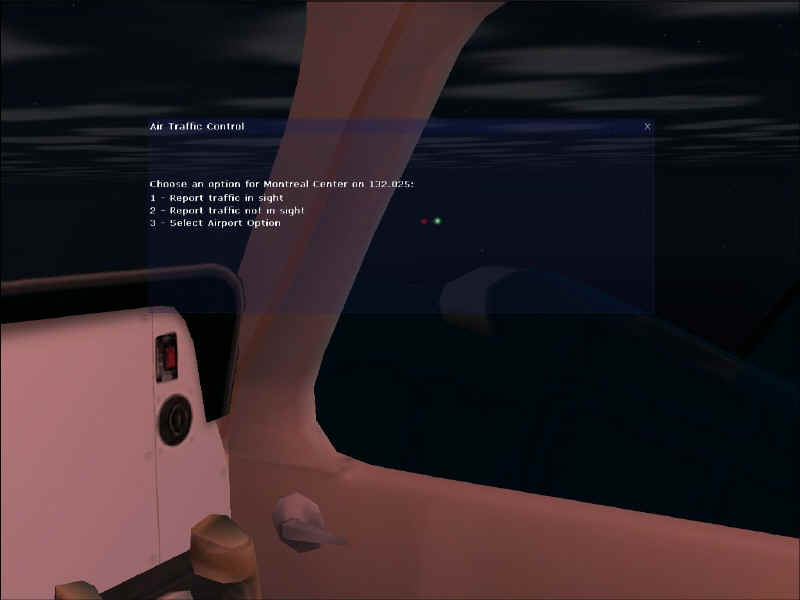 6) Twinkle twinkle little star.
7) Well at least the moon's making an appearance
.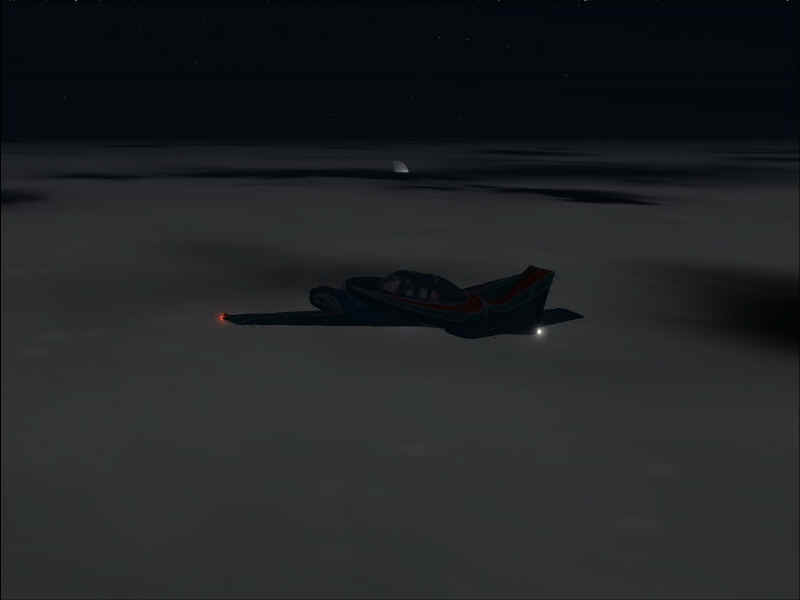 8) Prop condition and mixture levers leaned to make the 1,110 nm to Alert (look at the r.p.m.)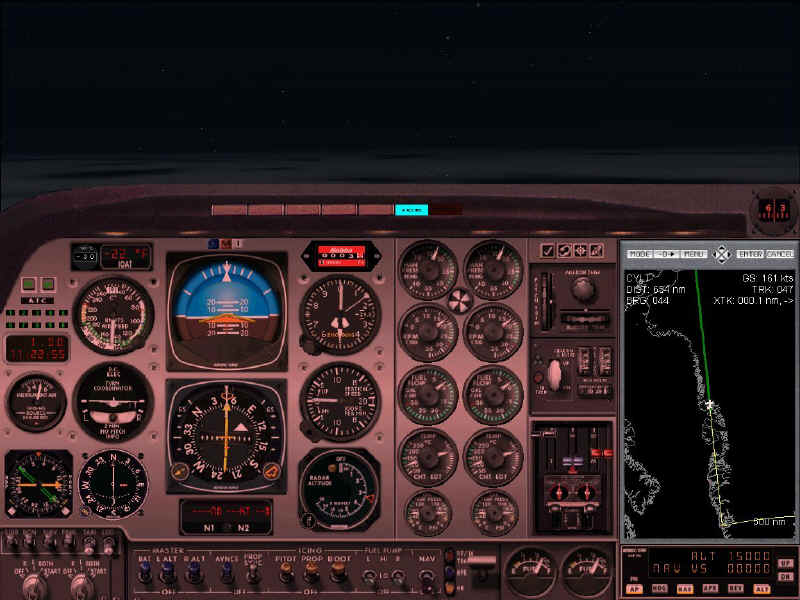 9) I reckon the 3 above are reindeer and Santa's sleigh is in the distance.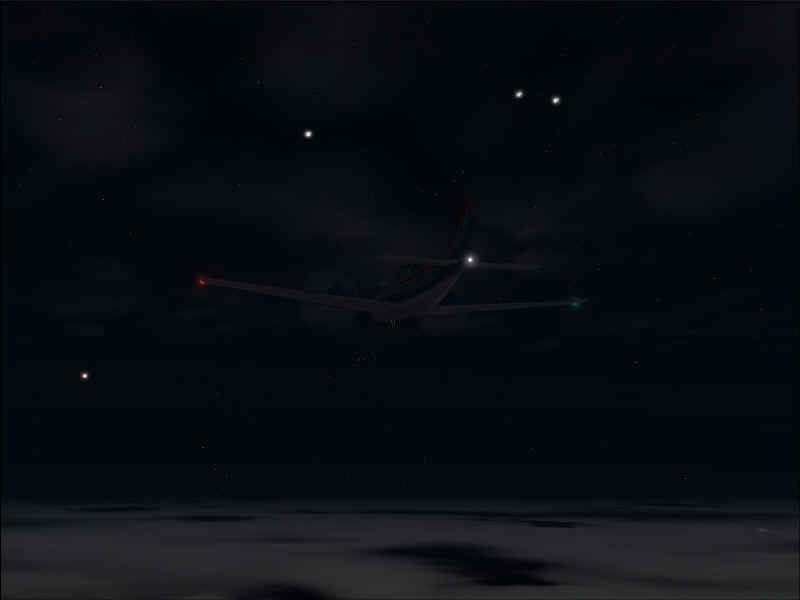 10) Landing at Alert.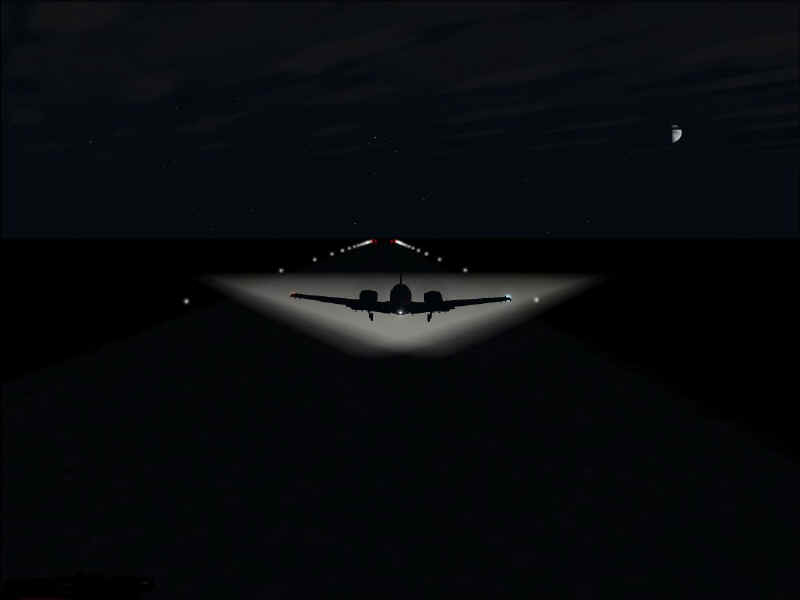 11) Nothing here but me and the N.D.B.